As an Amazon Associate publisher, I earn from qualifying purchases. The commission is paid by the retailer, at no cost to you.
Thumbsticks are used by players of all console types. The popularity of thumbsticks is huge. And that's not without a reason.
What are thumbsticks for?
Do thumbsticks help your performance?
Best rated thumbsticks from Amazon
thumbsticks for PS4 and PS5
thumbsticks for xBox and xBox one
thumbsticks for Ninentendo Switch

What are thumbsticks for?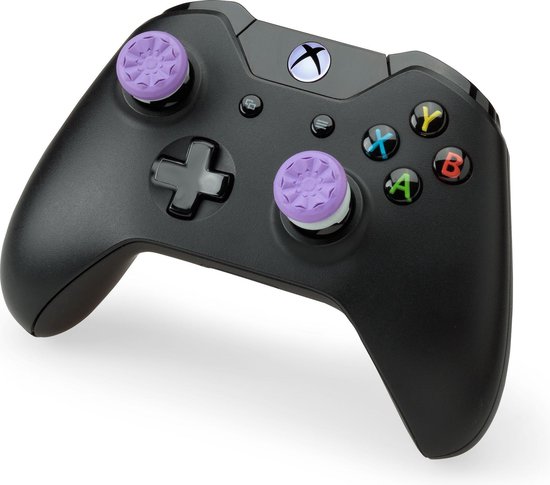 Thumbsticks are basicly designed to increase precision while gaming. Do you need them? No, of course you can play with your controller just as it comes out of the box.
I did play without them for a long time. But as many players get them I've noticed a shift. Everyone wants them because you for sure want to keep of up with the game. And Fortnite certainly has become more competitive.
Shop some of the best control freaks by console at the KontrolFreek store on Amazon.
They are on the market for every type of controller.
Playstation 5 controller
Playstation 4 controller
Playstation 3 controller
Xbox One controller (S en Elite)
Xbox 360 controller
Nintendo Switch

Do thumbsticks help your performance?

Thumbsticks surely boost my gaming skills a ton. It is all about precision and perfect timing really.
Anything that can help a bit can make a huge difference in your performance.
Thumbsticks give you:
a lot more comfort for long gameplay
an overall better play because of the grips
finer small control adjustments
more accurately aiming
an extended solution for longer fingers
no slipping of your fingers during the game
protection from your controller against sweat
And yes, it gets you to customize the looks of your controller.
I find that pretty cool, having a controller I've made a bit more ME (and friends never accidentally take one of my controllers if we play together in the same place).
The little grips won't have to cost much and give you a lot in return. They make a nice gift as well for any player you want to surprise. Check out my guide for gifts in all price ranges.

Kontrol Freek Galaxy thumbsticks for PS4 and PS5
KontrolFreek FPS Freek Galaxy Purple for PlayStation 4 (PS4) and PlayStation 5 (PS5) | Performance Thumbsticks | 1 High-Rise, 1 Mid-Rise | Purple | See details at Amazon.com
KontrolFreek is about more than just Performance Gaming Gear. FreekNation is a global community over 4M strong where performance-oriented gamers can find and share tips, tricks, support and motivation to level-up their games.
Our passion is supporting like-minded gamers in their quest for greatness. This is why we created FreekNation, a global community of 4M+ determined and ambitious gamers worldwide. Join us to level-up your game.

Thumbsticks Playrealm PS4 and PS5
Playrealm FPS Thumbstick Extender & 3D Texture Rubber Silicone Grip Cover 2 Sets for PS5 Dualsenese & PS4 Controller (Radiation Black) | See details at Amazon.com

eXtremeRate Thumbsticks PS4 and PS5
eXtremeRate Black & Clear Dual-Color Replacement 3D Joystick Thumbsticks for PS5 Controller, Analog Thumb Sticks with Phillips Screwdriver for Playstation 4 PS4 Slim Pro Controller | See details at Amazon.com

Pandaren PS4 and PS5 controller cover
Pandaren PS4 Controller Skin Studded Anti-Slip Silicone PS4 Controller Cover Set for PS4 /Slim/PRO Controller (CamouBlue Controller Skin x 1 + FPS PRO Thumb Grips x 8) | See details at Amazon.com

Kontrol Freek Galaxy Xbox
KontrolFreek FPS Freek Galaxy White for Xbox One and Xbox Series X Controller | Performance Thumbsticks | 1 High-Rise, 1 Mid-Rise | White | See details at Amazon.com

Tomsin Xbox thumbsticks
TOMSIN Replacement Thumbsticks for Xbox One/ PS4 Controllers, Black Analog Joysticks for Xbox One S (4 Pcs) | See details at Amazon.com

Aceshot thumb grips for Xbox
AceShot Thumb Grips (8pc) for Xbox One (Series X, S) by Foamy Lizard – Sweat Free 100% Silicone Precision Raised Antislip Rubber Analog Stick Grips For Xbox One Controller (8 grips) GREEN | See details at Amazon.com

E-mods Gaming thumbsticks for Xbox
E-MODS GAMING® 6 in 1 Swap Thumbstick Grips Replacement Parts for Xbox One Elite Controller – Black | See details at Amazon.com

Nintendo Switch thumbsticks Kontrol Freek
KontrolFreek Eclipse for Nintendo Switch Joy-Con and Switch Lite | 2 Performance Thumbsticks | 2 Low-Rise Convex | Black | See details at Amazon.com

LeyuSmart thumb grips caps for Nintendo Switch
LeyuSmart Sakura Flower Thumb Grip Caps, Joystick Cap for Nintendo Switch & Lite, Soft Silicone Cover for Joy-Con Controller (Pink&White) | See details at Amazon.com

Skull & Co. thumb grips for Nintendo Switch
Skull & Co. Skin, CQC and FPS Thumb Grips Set Joystick Cap Analog Stick Cap for Nintendo Switch Joy-Con Controller – Neon Red+Blue, 3 Pairs (6pcs) | See details at Amazon.com